Our web agency develops websites tailored to your business by studying customized solutions for companies, online shops, professional offices, restaurants, gyms, brands.
We build websites for small and mid-size companies, that tell a unique brand story using WordPress and WooCommerce to expand your online business.
Our agency develops your corporate branding by creating: brochures, logos, business cards, banners, roll ups, packaging.
We use 3D Graphic to create Prototypes, Photorealistic 3Ds, Augmented Reality and Virtual Reality.
WEB DEVELOPMENT AND DESIGN
BRAND IDENTITY & 2D GRAPHICS
We create your brand identity by designing logos, brochures, catalogs, business cards and much more.
Everything is designed in vector graphics with high resolution files.
CORPORATE WEBSITES & ECOMMERCE
We create websites for companies, shops, restaurants, medical studies, dentists, lawyers, and freelancers with tailor-made graphics that can be updated directly by the customer via a control panel.
We also develop Ecommerce Websites with a Shopping Cart to sell products online, implementing payments by credit card and PayPal.
3D GRAPHICS & ANIMATION
We use Cinema 4d to model and render static images with Corona and Vray rendering engines.
We create 3D videos using Unreal Engine 4, and interactive videos compatible with VR headsets.
We also use Substance designer products to create custom advanced textures.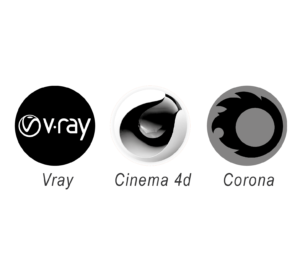 INTERACTIVE 3D & VR
Thanks to Unreal Engine we have completed our first projects with Real Time Render. The first project involved the creation of a Villa that can be explored with a PC thanks to an Augmented Reality viewer, with the possibility to change colors and materials of the objects "live" by interacting with the 3d environment.
ADVANCED 3D TEXTURES
We create advanced textures from scratch thanks to Substance Design.
We create photo-realistic textures tailored to the needs of the project. Ideal for Previews, Prototypes and Architecture.
SEO, SOCIAL & DIGITAL MARKETING
We improve the positioning of your company on search engines. We deal with Digital Marketing, Web Advertising Campaigns (Google ADS, Facebook ADS), Social Network Management, Newsletters, and DEM.
We carry out analyzes of competitors, keywords and target audiences.
LET'S BUILD TOGETHER
YOUR WEBSITE
We bring your company online, taking care of the corporate image in all its aspects, enhancing it on search engines and social networks.